Sign up to save your library
With an OverDrive account, you can save your favorite libraries for at-a-glance information about availability. Find out more about OverDrive accounts.
Find this title in Libby, the library reading app by OverDrive.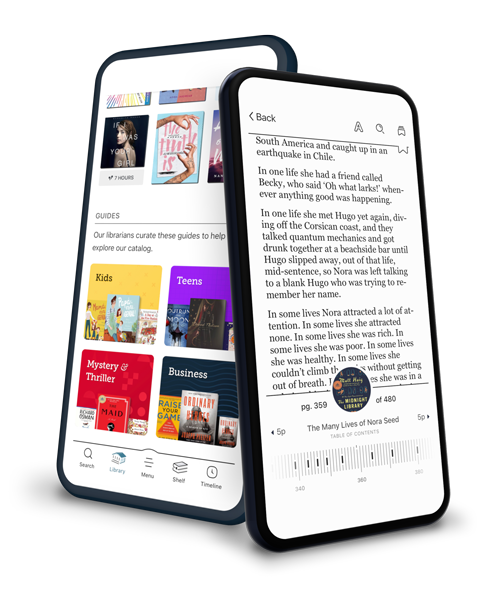 Search for a digital library with this title
Title found at these libraries:
The New Pioneer is your guide to everything the land has to offer. Every issue is packed with useful how-to information for back-to-the-landers, plus spotlight pieces on couples and families that have actually "been there, and done that" with success! The New Pioneer is also chock full of expert advice on must-have tools and homestead gear, planting and farming, strategies for achieving energy independence and buying rural land, do-it-yourself projects and how to get the most out of living the rural life.
Keep On Thriving
The New Pioneer
HOME & GARDEN HACKS • Simple how-tos that'll help you make the most of your time indoors and out
keeping up with the CALDWELLS • BY GIANACLIS CALDWELL
FARM-STAY TIPS FROM A PRO
UPGRADING THE POWER SYSTEM
SOLDIER TO farmer • GET INSPIRED BY ADAM JETER'S NEW PASSION IN NORTH CAROLINA
A GROUP EFFORT
ADAM'S INSTANT POT PORK SHORT RIBS
READY TO GO COUNTRY? • BEFORE YOU PUT ANY MONEY DOWN, GET ANSWERS TO THESE QUESTIONS
PUMPING UP PROPERTY • ADVICE FROM A RURAL REALTOR ON INCREASING THE ALMIGHTY RESALE VALUE
Work & Party Goats • AN ARKANSAS COUPLE'S NOVEL WAY TO GENERATE INCOME AND SPREAD SOME JOY
THE GOAT WITHIN
Edible WINDBREAKS • FRUIT-BEARING SHRUBS CAN PROTECT YOUR PROPERTY FROM EROSION AND FEED YOU, TOO
GOOD EDIBLE CHOICES • For the edible permaculture windbreaks at Cottonwood Bend, we selected the following plant species:
PROTECTING YOUR FLOCK • A LOOK AT THE TOP PREDATORS AND ADVICE ON KEEPING THEM AT BAY.
Stone Walling • PUT YOUR SEEMINGLY ENDLESS SUPPLY OF ROCKS TO GOOD USE
ROCK WALL FIRE PIT
SHED FACELIFT • Why spend big bucks for a prefab shed if you can rebuild the one you have?
BATTERIES TO BANK ON • FOR OFF-GRID USE, YOU CAN'T BEAT THE NEW LITHIUM BATTERIES
OFF-GRID IN THE DUST BOWL
SIMPLE and delicious CIDER • ENJOY THE HEALTHY HOMESTEAD TRADITION OF PRESSING APPLES FOR JUICE, CIDER AND VINEGAR
CIDER VS APPLE JUICE
SIMPLE PITCHED CIDER
lessons from a JUNKYARD DIVA • HOW TO SHOP SMART AND TURN TRASH INTO TREASURE
BUYER'S GUIDE TO ESTATE SALES
10 TOP SHOPPING TIPS
Love-Ewes • Quilts and blankets made to put smiles on the faces of sick kids
Texas BEER KING • Despite the pandemic shutdown, the folks at Jester King keep on ruling
FIRE PREVENTION & MITIGATION • COMMON SENSE AND GUIDANCE FROM THE DHS: DEPARTMENT OF HOMESTEAD SECURITY
all-natural DESIGN STUDIO • CREATE RUSTIC, OUTDOORSY ITEMS WITH FEATHERS, PLANTS, WOOD, STONE AND MORE
Prep Like A Permie • A permaculture mindset can turn hunkering down into a pleasure, not a burden
WHEATON'S SKIP & PEP PROGRAMS
smoking 101 • How, where, what and why with today's handy new smokers
SMOKING TIPS & TRICKS
OREGON TRAIL "CUISINE" • For a taste of pioneer life, try these authentic recipes
By Hook Or By Crook • If you have sheep or goats, this shepherd's crook will snag 'em
Critter Catching With A Crook • First, full disclosure. On our place, we have horses, chickens, a dog, two cats and assorted visiting wildings: bunnies, possums, rats, coyotes, etc. No goats. No sheep. I, therefore, have no direct experience wrangling bovids with a crook. What follows here I have learned from reading and observation, in person and via the internet. So, here goes.
Hassle-Free Hauling • The basics for hooking up, stowing and delivering your load safely By Karrie Steely
TRAILER JARGON
Adventures In Pest Control • Win the war against dastardly critters in your attic, yard and bird feeder
WHATCHA...